Supporting FISH of Greater New Haven
11/30/2020 (Permalink)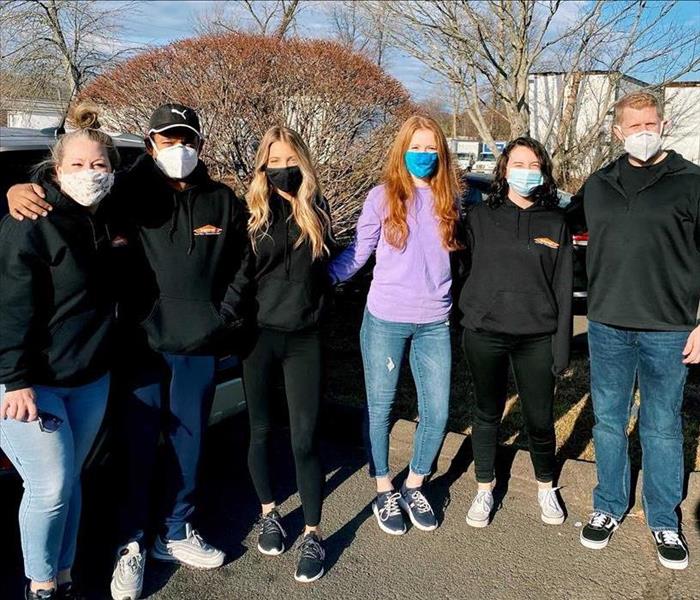 Members of our team (not all pictured) volunteered last Saturday to deliver Turkey Dinners to FISH's clients.
Every holiday season, our team here at SERVPRO of Branford/Shoreline chooses a local charity or non-profit to support. This year, we've chosen FISH of Greater New Haven!
What Does FISH Do?
FISH's mission is to provide hope and groceries to our homebound neighbors in Greater New Haven. FISH delivers free bags of nutritionally sound groceries to households which are unable to access walk-in or mobile pantries due to disability, age, or other mobility impediments and cannot afford an adequate supply of food. FISH is the only agency in the area to deliver free food directly to clients' front doors!
A Few Facts About Fish:
FISH is a pantry that delivers to 545 households each month, representing over 900 individuals.
On average, they purchase one bag of groceries for a little more than $9.00.
They have been serving needy families and individuals in the New Haven area for over 50 years.
Volunteers help keep FISH going - Packing and delivering food bags for their clients.
How Can You Help FISH?
Deliver Groceries. Volunteers can sign up to deliver a short run of groceries with drop offs located in close proximity to each other. Weekly, biweekly, or monthly opportunities are available.
Pantry Volunteers. You can volunteer in their pantry, stocking shelves, unloading the delivery truck, or packing food bags.
Office Volunteers. Needed for cleaning and maintaining the FISH donor database, producing newsletter, and working with Constant Contact.
Donate to SERVPRO #TEAMLUCIANI's Food and Donation Drive!
Interested in volunteering with FISH? Learn more here!
SERVPRO Donation Drive For FISH of Greater New Haven
To help support FISH and their mission, we've organized a non-perishable food donation drive, as well as a GoFundMe page for monetary donations (Link here!)
Donations can be dropped off at our main office located at 150 Bradley Street, East Haven CT 06512, or picked up by request by calling or texting Mariah Miklus at 203-610-9633.
Needed food donations include:
Boxes of Cereal (Low Sugar)
Canned Vegetables (Low Sodium)
Canned Fruit
Shelf-Stable Milk (1%, 2% or Reduced Fat)
Tuna
Soup (canned or dry) (Please No Ramen)
Rice (brown preferred, or other dry grains)
Canned Stew
Crackers
Beans (Black, Lentil, Kidney etc.)
Nuts (Almonds, Pecans, Peanuts, Walnuts etc, unsalted)
Oatmeal (Rolled Oats, Steel Cut, or Old Fashioned)
Peanut Butter and Jelly (Reduced Sugar)
Instant potatoes
Instant milk
Fruit snacks
Macaroni & Cheese
Pasta (Whole Wheat, Sprouted-Grain, Quinoa, or Gluten Free)
Spaghetti Sauce
Fruit
Coffee (Instant or Ground)
Want More Info on Our Donation Drive? Call Us at 800-734-3213!