Toilet Overflow Water Damage Cleanup in Branford, CT
3/15/2023 (Permalink)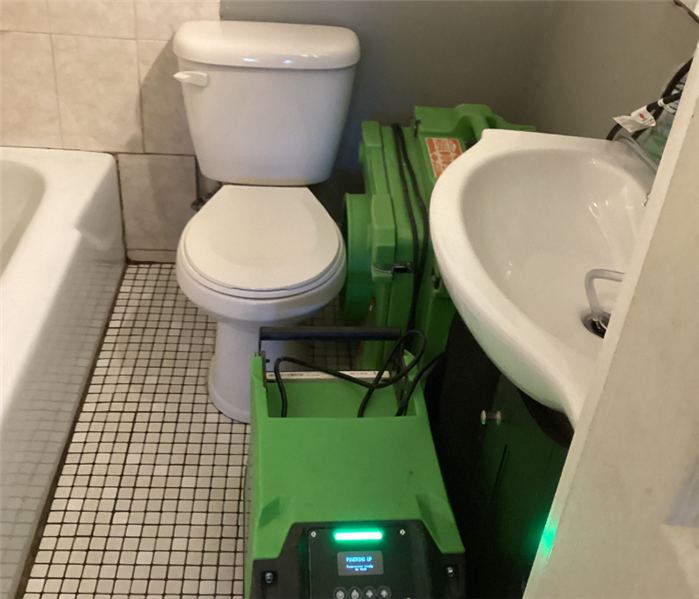 Water damage from a toilet leak in Branford, CT? SERVPRO of Branford/Shoreline is Here to Help with expert water damage restoration services.
Any type of plumbing issue can be aggravating, but seeing the water rise in your toilet bowl can quickly turn into a nightmare.
Toilet overflows or leaks require immediate action to prevent serious secondary damages. When toilet water damage in Branford, CT is left unaddressed, it can ruin your bathroom, the ceiling below, and depending on the cause may pose a health risk for you to clean up yourself.
Get 24/7 Toilet Water Damage Restoration in Branford, CT - 800-734-3213
What Causes A Toilet To Overflow?
Clogged or blocked drain - A clog in your toilet or nearby pipes prevents water from draining when you flush it. This is often caused by attempting to flush too much toilet paper at once.
Blocked vent pipe - If your toilet seems to be getting clogged frequently, it may be due to a blocked vent pipe. A plumbing vent connects to all your plumbing fixtures and regulates the air pressure within your home's plumbing system. Since plumbing vent pipes are often located on roofs, they can become clogged with debris like leaves or pine needles. If this happens, your toilet won't flush properly and could overflow.
Sewer line blockage - The main sewer line that runs to the home can also cause the toilet to overflow if it becomes blocked or clogged. Clogs in the main sewer line are usually caused by flushing non-flushable items like diapers or feminine hygiene products.
Overflowing septic tank - If you have a septic tank instead of a municipal sewer system, the tank could reach its maximum capacity and push wastewater back into your home, causing your toilet to overflow.
Misaligned or high filler float - If the water is spilling out from the tank rather than the bowl itself, the problem may be due to a misaligned or high filler float. When the filler float in the tank of the toilet is set too high, it can cause the tank to fill with too much water and leak out the sides.
What To Do When Your Toilet Overflows
Stop the overflow as soon as possible - Taking fast action can help prevent gallons of toilet water from flooding your home. To stop an overflowing toilet, do the following:
Remove the lid to the toilet tank.
Push down the flapper valve (rubber flap inside the tank) to stop clean water from filling the toilet bowl.
Lift the float to stop the tank fill valve from refilling the toilet tank.
If the toilet does not stop, turn off the water supply by turning off the valve behind the toilet on the wall. If water continues to flow after shutting off the water, you should immediately call a plumber.
Clear the clog - This can be accomplished in a few ways, such as plunging the clog or snaking the drain. Before attempting either of these methods, make sure you grab a pair of gloves and a bucket to remove a few inches of excess water from the toilet bowl.
If safe to do so, clean up any standing water - If the water that came from your toilet is clean water due to a toilet malfunction, you can clean it up yourself with the proper protective equipment. If the water has any foreign objects or contaminants like waste, you should call a professional water damage restoration company for cleanup.
Expert Service For Water Damage From A Toilet Leak in Branford, CT
Complete Restoration Services

Free Estimates
Water damage from a toilet leak in Branford, CT can ruin various structural components in your home, such as drywall, subfloors, insulation, electrical wiring, and more. That's why you want to seek immediate assistance to ensure all areas are properly dried and cleaned after a toilet overflow.
As your local restoration company with over 15 years of experience in toilet water damage restoration in Branford, CT, you can trust SERVPRO of Branford/Shoreline to handle any size water damage. Our team is IICRC Certified with the experience and resources needed to get your home back to normal after a toilet leak or overflow.
When you call SERVPRO of Branford/Shoreline for expert toilet overflow water damage cleanup in Branford, CT, our goal is to provide expert and efficient service to make your disaster "Like it never even happened."
Call 24/7 For Restoration After Toilet Water Damage in Branford, CT - 800-734-3213