Water Damage Caused by Appliances: Causes and Prevention
3/30/2021 (Permalink)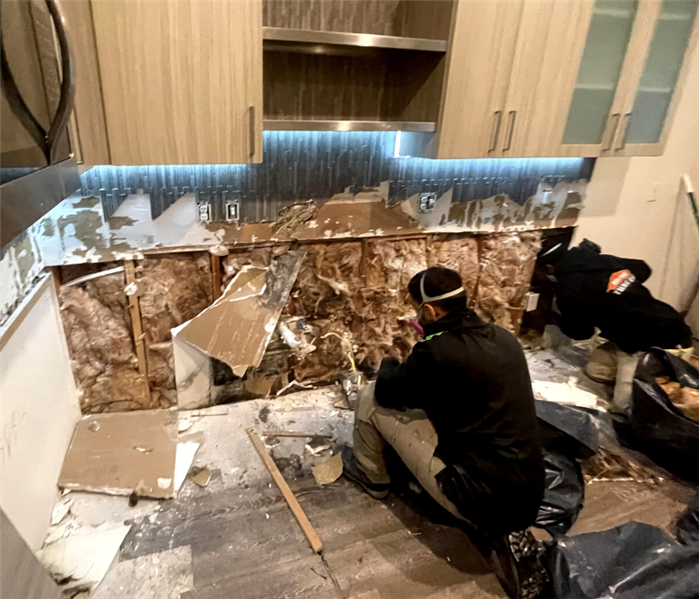 The aftermath of this dishwasher leak in New Haven County required extensive water damage restoration services from SERVPRO of Branford/Shoreline.
While it's something many Connecticut homeowners tend not to worry about, water damage caused by leaking appliances poses a significant threat to your home in New Haven County. Any appliance which has a water supply increases your risk for leaks or flood damage.
Here, we will outline the most common appliances that can leak and damage your home, how to prevent appliance leaks and water damage, and whether or not insurance covers damage from appliances.
Appliances Most Likely To Flood Your Home
Hot Water Heater
If your water heater leaks or bursts, it can pour anywhere from 40 to 120 gallons of water into your home depending on the tank's size. If you don't catch the leak right away, flooding can become even more intense as water continues to flow into the water heater tank.
Water heaters are most likely to cause water damage in your home, with about 75% of them failing before they're even 12 years old. It's commonly suggested to replace your water heater about every 10 years before it fails and damages you home.
Washing Machine
Depending on where the laundry room is located in your home, washing machines can cause serious water damage when they leak or overflow. While the average washing machine only uses about 19 gallons per load, it can still completely saturate floors, carpeting, ceilings, and leak all the way into your basement.
Washing machine failure is most commonly due to overloading the machine or a failed water line hose. These hoses are only designed to last about 8 years, and should be replaced to minimize the possibility of it detaching and flooding your home.
Dishwasher
Similar to washing machines, dishwashers can leak or overflow from overloading, adding too much soap, or hose or valve failures. When dishwashers leak, water can quickly seep into the kitchen floor and flow to the floors below.
Common causes of dishwasher leaks include:
Leaking dishwasher door
Leaking or cracked tub
Loose or cracked water hoses or clamps
Using the incorrect or too much detergent
Refrigerator
If your fridge has a water filter or ice maker built in - your chances for appliance leaks and water damage increase significantly. Refrigerators are already prone to leaks if the defrost drain becomes clogged, and the water lines from the water filtration and ice maker systems only increase the chance for water leaks.
When your fridge leaks, you may not notice until it has already caused considerable damage to the floor. This is because fridge leaks are usually slow and constant over time, unlike a large flood from an overflowing washing machine or dishwasher.
Air Conditioning System
Both central air systems and window unit air conditioners can cause water damage in your Connecticut home. You're not likely to notice these leaks until they've caused a considerable amount of water damage to walls, floors, or ceilings in your home.
The most common causes of an air conditioner leaking include:
Clogged or disconnected drain
Dirty condensate pump
Clogged air filter
Dirty evaporator coil
Cracked drain pan
Low refrigerant
Condensation buildup within ductwork
How to Prevent Appliance Leaks and Water Damage
When appliances leak, they can cause flood damage, structural damages, and even mold growth in your New Haven County home. Taking the following steps can help you avoid leaky appliances from causing water damage to your property.
Periodically perform visual inspections of all appliances, hoses, seals, and valves for signs of damage. Additionally, make sure that all components are firmly attached to the appliance.
Note when water supply lines should be replaced, and replace them ahead of time. This way, there's almost no way for them to fail.
Flush out your water heater. Over time, sediment and other debris can build up in the tank of your water heater and cause it malfunction. This can be done yourself, but if you're not sure what to do you can contact a local plumber.
Follow manufacturer guidelines. Make sure that you are properly using all appliances in line with its guidelines. This includes using the proper soap for your dishwasher and washing machine, which can cause them to overflow.
Make sure appliances are balanced. Sometimes when appliances aren't leveled off, they can leak. Simply use a level and adjust the appliance as needed until it is balanced.
Water Damage Caused by Leaking Appliances: When Is It Covered by Insurance?
When appliances leak, you'll likely need help from a water damage restoration company in Connecticut to clean up and make sure your home is properly dried out. But when these services can cost upwards of thousands of dollars out of pocket, you want to know whether or not your insurance company will cover the damages.
For the most part, insurance covers water damage caused by leaking appliances. But - this is only as long as the damages were sudden and unforeseen. This means that if your insurance adjuster determines that your loss was caused by neglect or regular wear and tear, your claim may be denied.
Your insurance claim should be covered when:
Hot water heater leaks or bursts
Washing machine overflows or leaks
HVAC leaks
Dishwasher leaks
Ice maker line leaks
Local Appliance Leak Cleanup Services in Connecticut
As your local water damage restoration company, SERVPRO of Branford/Shoreline is Here to Help 24/7 for water damage caused by leaking appliances in New Haven County. Our team immediately responds to prevent further water damage or mold growth in your home.
We Handle The Insurance Process For You
For Immediate Assistance With Water Damage, Call SERVPRO of Branford/Shoreline Today!