Furnace Soot Cleanup in Guilford, CT
12/20/2022 (Permalink)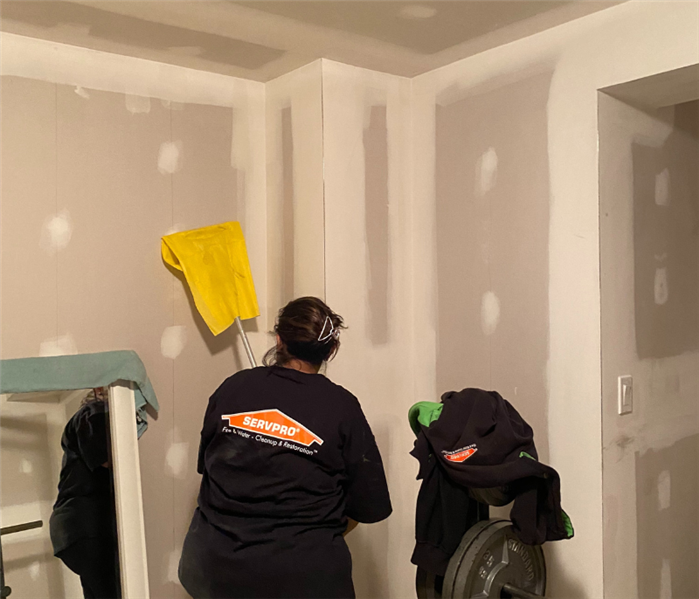 Our professionals use advanced cleaning methods and solutions to provide the most expert soot cleanup in Guilford, CT.
Furnace Puffback in Guilford, CT? We're Here To Help.
Colder weather often calls for turning on the heat to stay warm, but make sure your furnace is cleaned and working properly.
When a furnace puffback occurs, it can cause severe smoke and soot damage throughout your home or business, affecting walls, floors, furniture, and more.
As your local fire and smoke damage restoration company, SERVPRO of Branford/Shoreline is ready to provide immediate soot removal in Guilford, CT.
Call Our Office For Immediate Assistance - 800-734-3213
Professional Soot Removal in Guilford, CT
Complete Reconstruction Services
Furnace puffbacks in Guilford, CT leave behind a sticky, black soot residue that is difficult to clean without the proper methods and solutions. That's why you should seek expert assistance to clean and restore your property after a puffback.
As your local soot removal company in Guilford, CT with over 15 years of experience in soot cleanup near you, SERVPRO of Branford/Shoreline is ready to handle any size disaster. Our IICRC Certified specialists have all of the training and resources needed to remove soot and smoke damage from your belongings, as well as any unwanted odors the puffback may have caused.
Our team even simplifies the insurance process by directly communicating with your carrier to submit all required paperwork, photos, estimates, and more.
When you call SERVPRO of Branford/Shoreline for expert and efficient furnace soot cleanup in Guilford, CT, we're ready to make your puffback "Like it never even happened."
What Not To Do After a Puffback
There are several things you should avoid doing after a furnace puffback to make sure you don't accidentally make damages worse. Some of these things include cleaning smoke and soot yourself, scrubbing walls, and using your heating system.
But why?
Improper cleaning of soot and smoke residue will make it worse
Scrubbing soot or smoke can embed particles further into walls, furniture, or other items
Homeowners don't have the proper chemicals or solutions needed to neutralize smoke and soot particles, which means that smoke odors will linger
Using your heating system before it has been repaired can cause more soot and smoke to circulate around your home
SERVPRO Puffback Cleanup Process
SERVPRO of Branford/Shoreline creates a unique plan for your soot removal in Guilford, CT, but the general cleanup process stays the same.
Step 1: Inspection and Soot Damage Assessment
A Project Manager carefully inspects your property to determine the scope of the smoke and soot damage. From here, they'll prepare an effective plan for your soot cleanup in Guilford, CT.
Step 2: Equipment Set-Up
Your local SERVPRO in Guilford, CT uses specialized HEPA filter air scrubbers to remove smoke and soot particles from the air to prevent them from settling onto more surfaces. This step also helps to remove smoke odors.
Step 3: Soot and Smoke Cleaning
Our experts use specialized techniques and solutions to remove smoke and soot residue from walls, floors, ceilings, and any other surfaces affected by your furnace puffback in Guilford, CT.
Step 4: Fabric Restoration
Since puffbacks also damage your belongings, like furniture, clothing, and bedding, our team makes sure your upholstered items are properly cleaned to remove all soot damage.
Step 5: Air Duct Cleaning
Before turning your heating system back on, it's important to make sure that the air ducts are properly cleaned to prevent more soot and smoke particles from spreading throughout your property. This step also helps to remove all unwanted odors.
Step 6: Restoration
The final step of furnace soot cleanup in Guilford, CT is getting your home or business back to normal. During this step, our in-house construction division performs any repairs, painting, or reconstruction to restore your property to its original condition.
Get 24/7 Soot Cleanup in Guilford, CT - 800-734-3213