Water Damage From Snow in Guilford, CT
1/12/2023 (Permalink)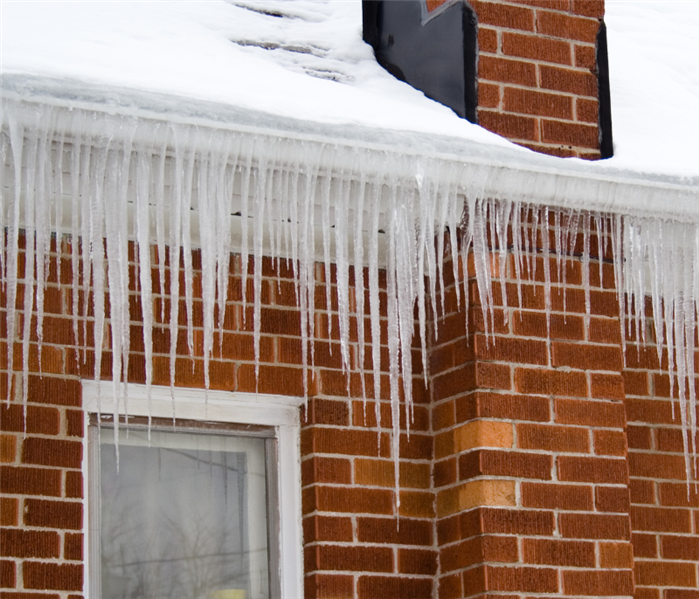 If you're dealing with snow water damage in Guilford, CT, SERVPRO of Branford/Shoreline is Here to Help begin cleanup & restoration immediately.
While many homeowners are familiar with the risks of property damage that severe weather can pose, you may forget about the damage that can follow less extreme weather.
Did you know that homes can easily sustain water damage from melting snow in Guilford, CT? Not only is snow heavy enough to cause serious structural damage, but melting snow can also slip into your home through cracks you may not even know exist.
Here, we will outline the main causes of snow water damage in Guilford, CT, in addition to how to prevent water damage from snow in the first place.
Call Our Office For Snow Water Damage Restoration in Guilford, CT - 800-734-3213
What Causes Water Damage From Snow?
Snow and ice can cause water damage to your home in several ways, such as:
Excessive snow melt
Ice dams
Leaks from melting snow
Roof leak after heavy snowfall
Leaks from clogged gutters
1. Excessive Snow Melt
When a snowstorm is followed by warmer temperatures, any snow that is piled up around your home's foundation can quickly melt and oversaturate the ground.
This water can then force its way through any cracks in your foundation, seeping into your basement in a similar way to how basements flood after heavy rains.
2. Ice Dams
When the air in your attic is warm enough to melt the snow on your roof, the water flows to the edge of the roof and refreezes.
Over time, this process creates a large ridge of ice buildup, known as an ice dam, that causes water to back up under your shingles and eventually cause a roof leak.
3. Leaks From Melting Snow
When the snow and ice on or around your home melt, the water can easily slip through any cracks or crevices that may be present.
This means that any poorly installed windows or doors create an entry point for water to seep into your home and cause water damage.
4. Roof Leak After Heavy Snowfall
When heavy snow accumulates on your roof, it weakens the structural framing, which can leave your roof susceptible to leaks or even collapse.
5. Leaks From Clogged Gutters
Gutters are responsible for directing water away from your house and foundation.
If your gutters become filled with snow and ice, they can overflow and push melting snow down the side of your house and into the ground at your foundation.
How to Prevent Snow Water Damage in Guilford, CT
Fortunately, there are several things homeowners can do to help avoid water damage from snow and ice.
Use a roof rake after heavy snow - A roof rake can help remove snow and ice from your roof or gutters to prevent ice dams and excess buildup.
Remove snow from the perimeter of your home - Shoveling snow away from your home decreases the amount of melted snow that can oversaturate the ground at your foundation, reducing the chance of water in your basement.
Make sure your attic is properly insulated - It's important to ensure that warm air from your home does not flow into your attic. Maintaining a cold attic prevents the snow on your roof from unnaturally melting and causing an ice dam. You can also install heat cables on your roof to help melt away snow and ice that may build up on the edges of your roof.
Clear your gutters of any debris before and after snowstorms - Keeping your gutters free of any debris allows melting snow to flow away from your home. Ideally, your gutters should be clear year round!
Get your roof inspected - Have a professional inspect your roof and complete any needed repairs before snow and ice cause more damage.
Fill any cracks before winter arrives - Make sure to fill any cracks or gaps in the structure of your home to prevent melting snow from slipping through.
Expert Snow Water Damage Restoration in Guilford, CT
Complete Restoration Services

Free Estimates
If you're dealing with water damage from melting snow in Guilford, CT, you want to seek immediate assistance. When the damage from snow leaking into your home is ignored, it can lead to mold growth or even serious structural issues.
As your local water damage restoration company with over 15 years of experience in snow water damage restoration in Guilford, CT, you can trust SERVPRO of Branford/Shoreline to properly handle the damage to your home or business. Our IICRC Certified team is ready to respond to your call 24/7 with all of the training, equipment, and resources needed to restore your property to its pre-damage condition.
When you need expert restoration for snow water damage in Guilford, CT, SERVPRO of Branford/Shoreline works hard to make your disaster "Like it never even happened."
Get 24/7 Restoration After Water Damage From Melting Snow in Guilford, CT - 800-734-3213