Preventing Flooded Basements in Branford, CT
6/13/2022 (Permalink)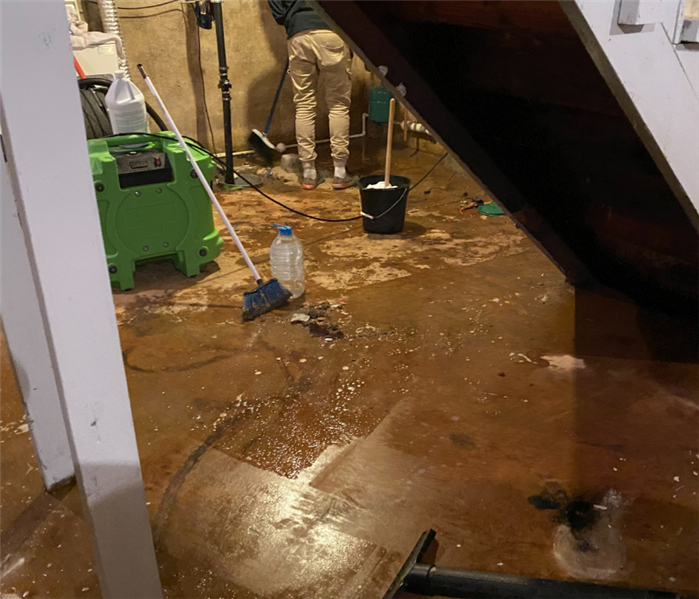 When your basement floods in Branford, CT, our team is ready 24/7 to provide emergency cleanup services.
Flooded basements in Branford, CT are surprisingly very common, with about 98 percent of basements experiencing flooding or water damage at some point in their lifetime.
Unfortunately, when water floods your basement, it can cause serious issues inside your home. Water damage can not only cause mold growth in as little as 48 hours, but it can even cause structural damage to your property.
So what do you do when your basement is flooding in Branford, CT? Here, we will outline why your basement is flooding, how to handle water damage from your flooded basement, and how to prevent your basement from flooding in the first place.
Why Is Your Basement Flooding?
The most common causes of flooded basements include:
Leaking or burst water heater
Heavy rains
Excessive snow melt
Burst pipes
Sewage backups
1. Water Heaters
Did you know that the average life expectancy for most water heaters is only 8-15 years? The older your water heater gets, the more likely it is to cause water damage inside your home.
When your water heater leaks or bursts, it's possible for up to 40 to 120 gallons of water to flood your home.
2. Heavy Rains
During periods of storms and heavy rains, the ground becomes saturated and water may pool around your house's foundation. The water pressure can force water through the concrete and into your basement.
If there are windows in your basement that have been incorrectly installed, water can also slip through that way.
3. Excessive Snow Melt
Excessive snow melt can cause basement flooding in Branford, CT in a similar way to how heavy rains can. If there is a large amount of snow piled up around a home, once it melts, runoff can quickly seep into your house.
4. Burst Pipes
When a water pipe bursts inside your home, it can cause extensive water damage.
There are several reasons that a pipe may burst, such as water freezing inside your pipes, high water pressure, and old or corroded pipes.
5. Sewage Backups
Depending on where they take place in your home, sewage backups or toilet overflows may also lead to a flooded or wet basement. The most common causes of a sewage backup include:
Broken sewer lines
Roots growing into sewer pipes
Flushing items like diapers or sanitary napkins down the toilet
Heavy rains
What To Do When Your Basement Floods
Don't immediately enter a flooded crawlspace or basement! Make sure that the area is safe to enter first. If there's a good amount of standing water, you should turn off your electricity and gas.
Put on rain boots and other protective gear. It's unsafe to wade through flood water in your everyday clothes and shoes because, depending on the source, the water could be contaminated and make you sick. If the water is high enough, consider wearing chest waders, as well. If your basement is this flooded, we recommend calling a professional water damage restoration company like SERVPRO of Branford/Shoreline to properly handle the situation.
Find the source of the water. Determining where the water is coming from helps to decide your next steps. If the flooding is due to heavy rains, wait until the storm ends and water stops flowing into your basement. If the water is coming from a burst pipe, hot water heater, or sewer backup, turn off your water immediately.
If you have a sump pump or drain in your basement, make sure it's working. Both of these things can help drain standing water in your basement, but it's also possible that they are causing the flooding issue. If either of them are clogged or broken, try your best to get them to work.
Begin removing standing water. If there are only small puddles of water, you can use a wet dry vacuum, towels, or a mop and bucket. If there's a few inches or more of standing water, we recommend calling a professional basement water removal company. SERVPRO of Branford/Shoreline has specialized equipment to quickly extract all water from your basement to help minimize damages and prevent mold growth.
Dry your basement as well as possible. Remove any wet belongings so that they can dry. Then, set up any fans or dehumidifiers you have to help remove remaining moisture from your basement. If there was a lot of standing water for an extended period of time, SERVPRO of Branford/Shoreline can help with our advanced equipment and moisture meters to make sure your basement is dry.
Begin the cleaning process. Since water damage can often leave behind dirt or debris, it's important to make sure that all basement walls and floors have been properly sanitized. This step will also help prevent the growth of mold or mildew, as well as any unwanted odors.
Fix the cause of your flooded basement. You want to make sure to take preventative measures so that you don't have to deal with a flooded basement again. If your home is prone to flooding, consider basement waterproofing. You can take steps to redirect water away from basement walls and runoff further away from your home. If you don't already have a sump pump or floor drain in your basement, consider installing them.
How To Prevent Flooded Basements in Branford, CT
With regular upkeep, maintenance, and visual inspections, water in your basement can often be easily avoided.
Have Your Water Heater Serviced Once Per Year - Sediment and other debris can build up in your hot water heater over time, causing the appliance to malfunction and leak.
Waterproof Your Basement - There are several ways to waterproof your basement. Because basement waterproofing can be dangerous, it's best to seek out a professional waterproofing company.
Take Steps to Prevent Burst Pipes - It's especially important to take notice of your water pipes during the winter because of freezing temperatures. Water discoloration and low water pressure can also be indicators of aged water pipes.
Be Cautious of What You Flush Down the Toilet - Sewage backups can often be caused by flushing items like diapers or sanitary napkins down the toilet.
Need Help With A Flooded Basement in Branford, CT?
When your Connecticut home sustains water damage from a flooded basement in Branford, CT, SERVPRO of Branford/Shoreline can provide immediate assistance. Our 24/7 emergency response helps to mitigate damages and prevent mold growth inside your home or business.
Our team of IICRC Certified restoration specialists are highly trained in water damage restoration and mold remediation. With over 15 years of experience in water in basement cleanup near Branford and the surrounding areas, you can trust SERVPRO of Branford/Shoreline to make the water damage from your flooded basement "Like it never even happened."
Advanced Moisture Detection Technology

FREE Cleanup Estimates
Call Us 24/7 For Immediate Assistance - 800-734-3213