How to Prevent Water Damage in Branford, CT
7/21/2022 (Permalink)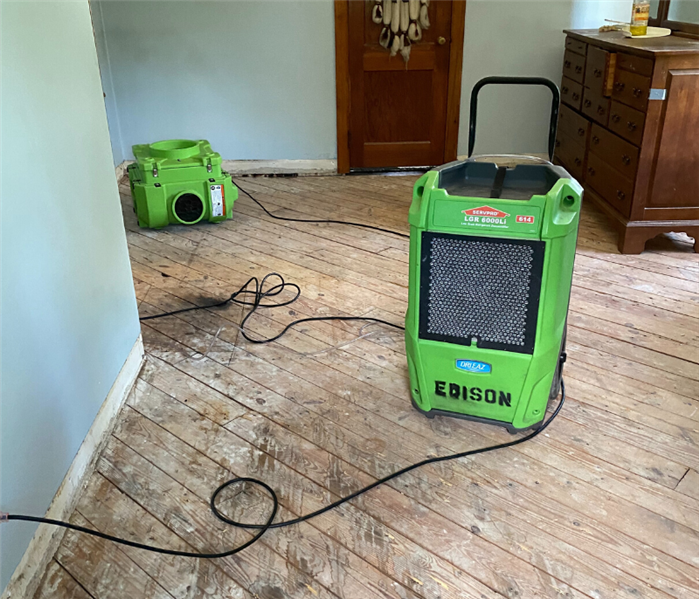 As your local water damage restoration company in Branford, CT, we're ready to make any size disaster "Like it never even happened."
There are numerous ways that your home or business may sustain water damage in Branford, CT. With the average home water damage insurance claim costing about $6,965, it's important to understand how to prevent water damage in order to save yourself both time and money.
Here, we will review how to identify water damage, as well as 7 ways to prevent it in your home or business.
Need Immediate Assistance? Call Today - 800-734-3213
Signs of Water Damage
Water stains
Dark or wet spots
Paint damage
Mold growth
Loose or damaged shingles on roof
Soft or sagging spots on floor
Musty odor
7 Ways to Prevent Water Damage in Branford, CT
1. Inspect Your Appliances
Appliances, such as hot water heaters, refrigerators, and AC units, can often leak and cause water damage in your home. However, regular inspections can help you identify when repairs or replacements are needed before issues begin.
2. Keep Gutters Clear
Your gutters are responsible for directing water from your roof and away from your foundation. However, they can often become clogged with twigs, leaves, and other debris, causing water to seep through the roof and walls of your home.
Cleaning your gutters at least twice per year allows water to flow freely away from your property.
3. Inspect Your Roof
There are several things that can damage your roof, such as aging shingles and heavy storms. Completing roof inspections yearly, as well as after large storm events, helps to detect roof damage early to allow for completion of any needed repairs or replacements.
Proper roof inspections involve examining both exterior signs of roof damage, like damaged or loose shingles, and interior signs, such as water stains and mold.
4. Waterproof Your Basement
Flooded basements are particularly common, with about 98 percent of basements experiencing flooding or water damage at some point in their lifetime. That means it's especially important to prevent water damage in your basement.
Waterproofing your basement is an effective way to protect your basement from flooding or water damage. Basement waterproofing involves filling cracks, sealing interior walls with waterproof paint, and taking steps to direct water away from your foundation.
Installing sump pumps or floor drains also helps to pump excess water out of your basement and away from your property.
5. Don't Let Pipes Freeze
Burst pipes are common during colder months because of water freezing inside pipes.
A few, simple ways to prevent frozen pipes are by insulating exposed pipes, keeping faucets running, and maintaining an indoor temperature of at least 55 degrees.
6. Consider a Water Leak Detection Device
Installing a water leak detection device is an easy, affordable way to catch leaks early and prevent water damages from worsening.
Leak detection devices are WiFi-enabled sensors that monitor leaks from appliances and pipes, and even send alerts straight to your phone.
7. Locate the Main Water Supply Valve
It's crucial to be able to quickly identify where your main water supply valve is located.
Being able to immediately locate and turn off your water valve allows you to stop water from continuing to leak or spread after you discover a burst pipe or leaking appliance.
Need Water Damage Restoration in Branford, CT?
Advanced Moisture Detection Technology

FREE Cleanup Estimates
When you have water damage in Branford, CT, you want a professional water damage restoration service to properly restore your home or business.
With over 15 years of experience in water damage restoration near Branford and the surrounding areas, you can trust SERVPRO of Branford/Shoreline to handle any size water damage repair. Our IICRC Certified restoration professionals have all of the training and resources needed to respond with expert cleaning and restoration services 24 hours a day, 7 days a week.
As your local water damage restoration company in Branford, CT, we will guide you throughout the entire restoration project. Our team will even directly communicate with your insurance company to submit all required paperwork, photos, estimates, and more.
When you need water damage restoration near Branford, SERVPRO of Branford/Shoreline is ready to make your disaster "Like it never even happened."
Get 24/7 Assistance With Water Damage Restoration in Branford, CT - 800-734-3213